CGM:
Cable Laying
Standard
The CGM Standard Cable Pulling System is a simple, compact and practical solution when laying cable into conduits in a domestic installation. The Standard uses a 3mm dia fibreglass rod and is available in 20m, 30m and 50m lengths. The unit comes complete with a range of grips and fittings.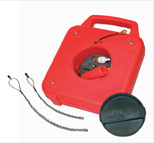 Junior
The CGM Junior is a compact portable unit ideally suited for use in offices, retail units or industrial buildings. Using a 4.5mm glassfibre rod the Junior is available in 40m, 50m, 60m, 70m and 80m lengths.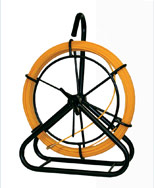 Meister
The CGM Meister is a robust medium duty pulling system, used in power transmission, signalling systems underground and communication cabling. Using a 6.7mm dia glassfibre rod the Meister is available in 60m, 70m, 80m and 100m lengths.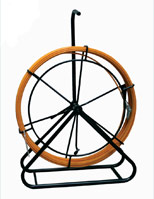 Universal
The CGM Universal cable pulling system is designed for the efficient laying of light weight energy and telecommunication cables. Using either a 9mm dia or 11mm dia fibreglass rod the Universal is available in lengths from 40m to 300m.